Consequential
A novella about an Irish Astronaut saving the world.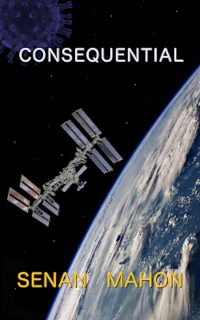 In this novella, an Irish NASA astronaut finds herself in a race against time to solve a global crisis caused by the after-effects of a virus pandemic. Marooned at the International Space Station, Professor Aoife Breslin must first figure out how to return to Earth, without any assistance from ground crew.

With very limited resources at their disposal, and the situation on the planet below deteriorating, Aoife and her ISS crew-mates are forced to reach into the deepest reserves of their ingenuity. They must solve high-tech problems and battle low morale, in a desperate mission to deliver an unconventional solution to the crisis on Earth.

The plan they hatch relies heavily on Aoife's unique skills, and she embarks alone on a high-stakes expedition to a city in chaos. A task made all the more difficult by the mental-health burden she carries as a legacy of her difficult childhood...
Already read it?
You can leave a review at AMAZON.COM or AMAZON.CO.UK. I read every one of them!
---
First published in 2020, CONSEQUENTIAL was Senan's Covid lockdown project, and his first foray into the world of pubishing. Want to know how well it has aged?

You can get it FREE right now, if you join his mailing list.